2020 Budget
Our 2020 Budget process has begun
Budget Committee Meetings Dates and Times
Budget Committee meeting schedules are subject to change. Visit the Council and Committee Calendar Listing for up-to-date information.
Budget Overview

Wednesday, June 26 at 1 p.m.

Fees and Charges (including public question period*)

Wednesday, October 2 at 1 p.m.

Service Area Presentations (including public question period*)

Monday, November 18 at 9 a.m.
Tuesday, November 19 at 9 a.m.
Monday, November 25 at 9 a.m.
Tuesday, November 26 at 9 a.m.
Wednesday, November 27 at 9 a.m.

Target for Budget Approval

Wednesday, December 11 at 9 a.m.
*Public Question Period runs for a total of 15 minutes and each person can speak for five minutes in total. If you would like to speak at a Budget Committee meeting, please complete the Request to Speak form.
You Asked Us
2018 Average Residential Property Tax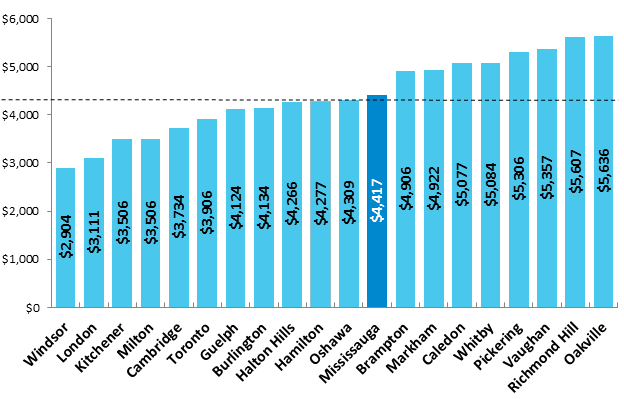 Source: 2018 Municipal Study - BMA Consulting Inc.
In Mississauga, you get good value for your tax dollar.
Mississauga is a growing, maturing city. The cost to expand the City's 300+ services is increasing as the population grows.
The City delivers the programs and services a larger city requires, for example:
82 MiWay transit routes with 500 buses; MiWay provides more than 40 Million rides per year.
25,800 recreation programs in 11 community centres
1.05 million items for loan through 18 libraries
Free public Wi-Fi in 95 City locations
5,660 kilometers of road network
29,000 calls to Mississauga Fire and Emergency Services in 2018
In setting the tax rate, we strive to balance the need to maintain services and infrastructure and add new programs and facilities required to meet a growing population.
Cities operate very much like the service industry. And, when your business is to deliver services, most of the costs are for people. In Mississauga, firefighters, transit operators, librarians and fitness instructors are examples of the people who deliver the services residents rely on every day.
Mississauga wants to attract the best-qualified people to deliver our programs and services. We benchmark against other municipalities and public sector organizations to ensure we offer competitive yet cost-effective salaries and benefits that compare with similar organizations across the country.
The property tax is the City's primary source of funding. It helps pay for important services, such as keeping roads in good repair, maintaining and expanding our transit system, supporting our fire and emergency services, parks, community centres, libraries and much more.
As a resident, you get all of these services with just 35 cents of every tax dollar we collect. The rest goes to the Region of Peel and the Government of Ontario.
We also receive revenues from other sources such as user fees and developer charges.
We challenge ourselves to find efficiencies each year. We've saved more than $55 million since 2009 by innovating and improving processes. Through our commitment to continuous improvement, we have adopted Lean and other tools to improve the way we work.
For example, we're finding efficiencies and new ways to save money by moving to an online Active Guide, getting rid of MiWay paper passes and switching to LED street lighting .
Only sixty per cent of all services and programs we deliver is funded by the property tax. We receive revenues from other sources, such as user fees, developer charges and gas tax.
The Ontario Municipal Act limits how the City can generate new non-tax revenue. The City of Mississauga and other Ontario municipalities have asked for changes to the Act to give local governments more revenue-generating options. As a result of recent changes to provincial law, we introduced a four per cent Municipal Accommodation Tax effective April 1, 2018 which will help to pay for tourism-related services in Mississauga.
2019 Budget
Where are your 2019 dollars spent?
*numbers may not balance due to rounding
The City of Mississauga owns infrastructure assets worth $9.2 billion. Funding for the City's infrastructure comes from your property taxes. The rest comes from other sources like debt financing, gas taxes, and development charges. More...
Where is the Stormwater program budget?
The City's Stormwater program has a separate plan & budget. Learn more about how your City dollars contribute to Stormwater management.
Continuous Improvement
At the City of Mississauga, we constantly look at our services to see how we can deliver them more efficiently and effectively. Learn more about Mississauga's commitment to continuous improvement.
Visit the Region of Peel for information on waste collection, water and wastewater, Ontario Works, subsidized housing, health services and more.
pcomapp01:8854