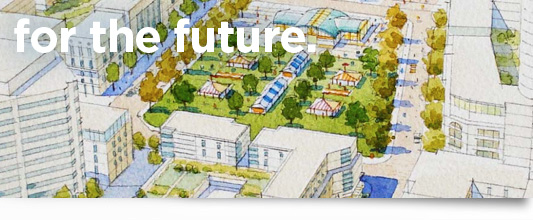 Downtown Strategy
The City of Mississauga is creating a downtown for today and tomorrow. To do this, we're developing a new guiding document called the Downtown Strategy. This Strategywill build on the success of the downtown core and provide direction for the future. It will reflect what people want to see – a vibrant place to live, work, learn, be entertained, raise a family and most of all, choose to be.
The Downtown Strategy seeks to set a vision and plan for Downtown Mississauga by answering the following questions:
What are the downtown's strengths?
Where are the opportunities? (e.g. to make it easy to live, work, play, shop, gather and learn in the Downtown)
What are our needs and aspirations for the downtown?
What is our vision for the future and what actions will get us there?
The Strategy will build on the Downtown21 Master Plan (2010) - a plan that first outlined a vision to transform the downtown from "suburban to urban" and laid the foundation for the current downtown core. For more information on the Downtown21 Master Plan, please click here.
To learn more about the new Downtown Strategy, please visit: yoursay.mississauga.ca/downtown
For a map of key attractions in Downtown Mississauga, please click here.