HEAT WARNING
A Heat Warning has been issued for Mississauga. Outdoor pools will be running on extended hours. Find tips on how to stay cool here: Find locations and tips on how to stay cool here..
Outdoor / Indoor Pool Locations
We have 7 outdoor and 11 indoor pools that offer a variety of aquatic programs and drop in swim times. Most of our pools include diving boards, slides, water toys & mats, day lockers, viewing galleries, change rooms and showers. Find one that's right for you!
Stay Cool in One of Our Many Facilities
When extremely hot temperatures are forecasted for the GTA, the City of Mississauga offers residents places to stay cool. These include visiting one of our swimming pools, spray pads and/or community centres.
Outdoor Pool Locations
+
Applewood Heights Outdoor Pool
3119 Constitution Blvd.,
Mississauga, ON L4Y 2Z1
Phone: 905-615-4019




Applewood Pool has limited on street parking. Additional parking is available at Dixie Curling Club on Palstan Rd. and at Dixie Public School on Flagship Drive.

David Ramsey Outdoor Pool
2470 Thornlodge Dr.,
Mississauga, ON L5K 1K5
Phone: 905-615-4549

Don McLean Westacres Outdoor Pool
2166 Westfield Drive,
Mississauga, ON L4Y 1P7
Phone: 905-615-4288


Parking for Don McLean Westacres Outdoor Pool is located at Westacres Public School, 2165 Breezy Brae Drive. Parking is prohibited on Westfield Drive. Before parking on nearby streets, please read the parking signs, for public safety, avoid blocking intersections and respect our neighbours. Please note: there is a three hour limit on most city streets unless otherwise posted. For more information on parking bylaws, visit mississauga.ca/parking

Erindale Outdoor Pool
1244 Shamir Cres.,
Mississauga, ON L5C 1L1
Phone: 905-896-5503

Lewis Bradley Outdoor Pool
745 Inverhouse Dr.,
Mississauga, ON L5J 4B5
Phone: 905-615-4354

Lions Club of Credit Valley Outdoor Pool (formerly Port Credit)
20 Rosewood Ave.,
Mississauga, ON L5G 3H9
Phone: 905-615-4830 ext. 2630

Streetsville Outdoor Pool
335 Church Street,
Mississauga, ON L5M 1N1
Behind the Vic Johnson Arena
Phone: 905-615-4355
Indoor Pool Locations
+
Cawthra Pool
1305 Cawthra Rd, Mississauga, ON, L5G 4L1
Phone: 905-615-4800 x2641

Cawthra pool is a 25 metre, 6 lane, rectangular shaped pool located in the Cawthra Secondary School adjacent to the Cawthra Community Centre. The pool entrance is located on Atwater behind the school.




Clarkson Swimming and Therapeutic Pool
2475 Truscott Dr., Mississauga, ON, L5J 2B3
Phone: 905-615-4840

Clarkson Community Pool is a 25 metre, 5 lane, rectangular shaped pool located in the Clarkson Community Centre. Features include a diving board, basket ball net, deep end slide, spray features, accessible ramps, a warm water therapeutic pool with hydro bench, male, female and family change room with day lockers. Motorized wheelchair-to-water lift available for entry into the main and therapeutic pool. In the family change room, there is a available a fully accessible change room with a ceiling lift and height adjustable change table.




Erin Meadows Pool
2800 Erin Centre Blvd, Mississauga, ON, L5B 3Y3
Phone: 905-615-4750

Erin Meadows pool is a 25 metre, 6 lane, rectangular shaped pool with a toddler's play pool and viewing gallery located on the deck. A favourite feature is the Tarzan rope available for use during Fun and Family swims.




Frank McKechnie Pool
310 Bristol Rd. E., Mississauga, ON, L4Z 3V5
Phone: 905-615-4660

Frank McKechnie has a 25 metre, 6 lane, rectangular pool with a toddler's play pool and 15 person whirlpool located on the deck. Favourite features include a Tarzan rope and Slide in the 25 metre pool and water sprays and swan slide in the play pool.




Glenforest Pool
3575 Fieldgate Drive, Mississauga, ON, L4X 2T7
Phone: 905-615-4630

Glenforest Pool is a 25 metre, 6 lane, rectangular shaped pool located in the Glenforest Secondary School. The pool entrance and parking lot are located behind the school and may be accessed by Fieldgate Drive.




Huron Park Swimming and Therapeutic Pool
830 Paisley Blvd. West., Mississauga, ON, L5C 3P5
Phone: 905-615-4820

Huron Park Pool is a 25 metre, 6 lane, rectangular shaped pool and Mississauga's deepest with a 12 ft. deep end. Huron Park Therapeutic Pool is beside Huron Park's main pool. The shallow and warm water is ideal for people in post-rehabilitation or who wish to include a gentle but effective exercise program into their lifestyle. Features include: an access ramp, a motorized wheel-to-water lift for entry into the pool, adult size six-point sling and chair sling, a private change room with a ceiling lift, adjustable height change table and wall bar. There is also a washroom equipped with a ceiling track sling lift, vertical pole and wall bar.




Malton Swimming and Therapeutic Pool
3540 Morning Star Dr., Mississauga, ON, L4T 1Y2
Phone: 905-615-4640

Malton Community Pool is a 25 metre, 4 lane, rectangular shaped pool located in the Malton Community Centre. Features include 2 elephant slides, a diving board, accessible ramps, a warm water therapeutic pool with hydrotherapy bench. Male, female and family change rooms available with day lockers. A tippy bucket available for use during Fun and Loonie swims.




Meadowvale Pool and Therapeutic Pool
6655 Glen Erin Drive, Mississauga, ON, L5N 3L4
Phone: 905-615-4710

Meadowvale Pool is a 25 metre, 6 lane, rectangular shaped pool with a diving board. The warm water therapeutic pool features a hydrotherapy bench and a maximum depth of 1.8m (6 ft). Both pools feature ramps and access via a motorized wheelchair to water lift. A height adjustable change table and hoyer lift are available in the family changeroom.




River Grove Pool
5800 River Grove Ave., Mississauga, ON, L5M 4R8
Phone: 905-615-4780

River Grove has a 25-metre, 5-lane lap pool with a water spray children's play pool and a 30-person whirlpool located on the deck. Favourite features include a two-storey water slide, extra wide stairs, in-water ramp and a 16-stall family change room.




South Common Pool
2233 South Millway, Mississauga, ON, L5L 3H7
Phone: 905-615-4770

South Common pool is a 25 metre hourglass shaped leisure pool with wide stairs and a ramp for easy access, on-deck and enclosed viewing galleries and a 16 person whirlpool.




Terry Fox Swimming and Therapeutic Pool
(Located in the Mississauga Valley CC)
1275 Mississauga Valley Blvd, Mississauga, ON, L5A 3R8
Phone: 905-615-4670

Terry Fox pool is a 25 metre, 6 lane, rectangular shaped pool with a warm water therapeutic pool opening in 2012. Features include a 1 metre diving board, a tarzan rope, accessible ramps and community change room with change stalls and day lockers.



Spray Pads

Spray Pads operate throughout the summer until September, weather permitting. Spray Pads open at 9:00 am, except for Lakefront Promenade Marina Park which opens at 10:00 am. For information, call 3-1-1 or 905-615-4311 if outside city limits.

Facility information:

Those with serious medical conditions should be accompanied by individuals knowledgeable of their conditions and responsible for their direct supervision.
Bathing/swimming apparel is defined as clean clothing and used specifically for the purpose of swimming. No outdoor shoes permitted on the pool deck.
Swim times and dates are subject to change at any time. Schedules may vary on holidays. Please contact your local pool for revised schedules.
Passes are usable at all city pools and skating rinks.
To rent a pool for an event, call 905-615-4100 or visit your local pool for more information.
Find daily schedules online here
Swim Lessons
LEARNING TO SWIM is more than stroke development.

It's about:

Safety
Building Confidence
Developing Lifelong Skills

Register today for a safer swim tomorrow
Swim Lesson Information
Frequently Asked Questions
What level should I register in?
Ask for a FREE assessment at the pool during a recreational swim.
How is my child doing?
Speak with the deck supervisor on duty.
Discuss your child's progress with their instructor on Parent's Day
What should I expect from swimming lessons?
The Swim for Life Program lets students' progress comfortably at their own rate.
Talk about lessons with your child without any pressure to pass a level until they are ready to complete the skills.
How can I make swimming lessons successful for my child?
Go to a recreational swim before the first lesson. Have fun and practice skills your child already knows. Orient your child to the change room, washrooms and pool.
Swimming, like any skill, requires a lot of patience, practice and positive comments
Talk with your child about their lessons and don't pressure them to pass a level until they are ready. Children need to progress at their own rate.
Consult with the instructor if your child is repeating the level.
Bring your previous report card for your new instructor to review.
Speak to the deck supervisor on duty. Ask about your child's progress and any areas that you could work on with him/her during a recreational swim.
What happens if I miss a class?
In the event you or your child is unable to attend a class(es), the City regrets that make-up class(es) will not be offered.
Why may a program be cancelled?
Programs not meeting registration requirements may be cancelled at any time or combined to meet our program standards.
General Information
Participants with long hair are encouraged to tie hair up or use a bathing cap.
Bathing Attire Description
All swimmers MUST change from street clothes into clean, gender appropriate swim attire suitable for a public environment. Participants who do not have control of their bowel and/or bladder MUST wear a garment that restricts leakage around the waist and legs.
Hot Tub
Staying in the hot tub for more than 15 minutes may be excessive for some individuals. Over exposure may cause fainting. Cool down periodically and leave the hot tub if nausea and/or dizziness occur. Follow the lifeguard's instructions in regards to the use of the hot tub.
How to help keep our pools clean
Pool fouling's can close our pools anywhere up to 24 hours. Help us stop the risk of spreading germs and reduce the number of closures.
Don't feed your children before swimming.
Take a cleansing shower with soap and water before entering the pool.
Visit the washroom before swimming.
Children not toilet trained must wear swim diapers made for swimming pool use. Disposable regular diapers are NOT permitted in the pool.
Don't spit in the pool, on the deck or in the shower areas.
Street shoes NOT allowed on the pool deck.
Medical Conditions
Individuals with serious medical conditions should be accompanied by a person knowledgeable of the condition and responsible for their direct supervision.
| | |
| --- | --- |
| Pool Splash Pass | Coming soon, summer recreational swim schedule |
Swim in 18 city pools all summer for as low as $40*
On sale at all community centres starting June 1 - 30 and outdoor pools June 22 - 30.
Outdoor pools regular season opens Saturday, June 22
Pass valid from June 22 - September 1, 2019
Benefits
Affordable
Swim every day, multiple times for less than a loonie
72 days of swimming.
Multiple pool & recreational swim use
Entrance into all recreational swims at any of our 18 pools throughout the summer
Convenient
Water resistant, wallet-sized plastic card for ease of use, convenience and portability
Rates
(Prices subject to applicable taxes and non-resident fee)
| | |
| --- | --- |
| Single | $50.00 |
| Older Adult (65+); Youth (4-17); Persons with Disability; with Student ID | $40.00 |
| Group** | $157.50 |
All bather capacities and swim admission standards apply for all recreational swims.
* Based on an older adult (65+)/youth (4-17)/student with ID/person with a disability rate
** Group pass - a combination of adults and/or children (maximum of 5 per group).
Memberships
A swim membership is a great way to enjoy swimming on a regular basis. Buy a Swim Membership today at any community centre and/or pool. One, three or 12 month memberships available all year round. Learn more

Swim Descriptions

Lap Etiquette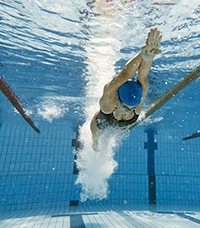 Click here to view Swim Schedule.
Recreational Swims
To make sure the supervision of children at the pool is a high priority for guardians and staff, a colour-coded wristband procedure has been put into place.

Please note: The wristband procedure is in effect this spring at River Grove Pool.
Watch for the implementation of the wristband procedure at all pools by fall 2019.

The red wristband applies to children 5 yrs & under and MUST be supervised in the water and within arm's reach, regardless of swimming ability. Maximum 2 children per guardian.

The yellow wristband applies to children between the ages 6 and 9 who cannot complete the swim test and MUST be directly supervised, in the water, and able to render immediate assistance. Maximum 4 children per guardian. This ratio may be increased to 8 per guardian if all children are wearing Ministry of Transportation approved lifejackets. Guardian is responsible for their direct supervision, must be in the water and able to assist immediately.

The green wristband applies to all swimmers who successfully complete a swim test and can swim in the deep water without a Ministry of Transportation approved lifejacket. Children 13 years of age and under must complete the swim test to swim in the deep end without a lifejacket.

"Safety First"

Even with formal supervision on site, such as a lifeguard, as the parent/caregiver, you are always the first line of defense. The best thing you can do to protect your kids from drowning is to actively and consistently supervise them when they are in or near water. If you've got kids, attentive supervision is your job.

Working together keeping kids safe at the pool. #keepingkidssafe
Water Exercise and Therapeutic Programs
Water Exercise Programs

Choose from a variety of water exercise and therapeutic programs available in our pools all year. We offer a wide range of programs from Gentle Aquafit to Aquatic Boot Camp.

Programs Designated As Heart-Friendly

The Cardiac Health Foundation of Canada, Ministry of Health and the Ontario Trillium Foundation have endorsed select programs which are most suitable for individuals with heart disease. Heart Wise Exercise Programs can be identified by finding the logo advertised with one of our program offerings.

The following is a list of programs that are eligible: Aquafitness, Gentle Aquafitness, Tri Splash And Dash Level 1, Warm Water Gentle Aquafitness, Warm Water Gentle Aquafitness - Female, Warm Water Aqua Cycle, Aquatic Personal Training

Read More on the Heart Wise Exercise program and research.

The foundation of exercise training in cardiac rehabilitation programs has been the exercise prescription. When a cardiac rehabilitation clinician designs an exercise prescription, the goal is to provide both a safe program of exercise and one that is effective in reducing risk and optimizing functional capacity. It became evident that there was a need to identify and create physical activity programs in the community that are safe and suitable for cardiac patients. As a result of the overwhelming evidence to support 'exercise as medicine', Heart Wise Exercise (HWE) was created by the University of Ottawa Heart Institute. The Heart Wise Exercise model forms a bridge between the clinical setting and community based exercise programs. Heart Wise receives funding from the University of Ottawa, the Ontario Trillium Foundation, and the Ministry of Health Promotion. For more information about Heart Wise Exercise, visit: www.heartwiseexercise.ca

A designated Heart Wise Exercise Program meets the following criteria:

Encourages regular, daily aerobic exercise
Incorporates and encourages client centered warm up, cool down plus self-monitoring during an exercise session
Guides participants to exercise at a safe level and has options to increase intensity
Accepts participants living with cardiovascular disease and those at risk
Offers health screening
Has a documented emergency plan with phone access to 911 that is known by all exercise leaders who are certified in CPR and an AED is on site

These criteria could cover a variety of different types of programs at different levels of intensity. Please read the program description provided by the facility to find the Heart Wise Exercise Program most suitable for you. If you are unsure, please contact the community center where the program is offered.

Aquatic Personal Training

Our qualified Aquatic Personal Trainers provide a customized workout program utilizing the weightlessness of water to help you achieve your goals. Training sessions are also suitable for people requiring hydrotherapy as per doctor's instructions.

Our Personal Training services are Heart Wise Exercise designated.

Days and times vary according to instructor availability and your personal needs. An aquatic fitness expert will confirm dates and times of your workouts. Contact your local pool to be matched with a trainer.

Clarkson: 905-615-4840 ext 2121
Huron Park: 905-615-4820 ext 2450
Malton: 905-615-4640 ext 2527
Mississauga Valley: 905-615-4670 ext 2471

Therapeutic Recreation

The City of Mississauga's recreational therapeutic services help meet the physical and social needs of our diverse community through post rehabilitation programming for those living with chronic or acquired conditions and limited mobility. We offer a variety of programs in our therapeutic pools and fitness/active living centres for people in rehabilitation for for those who wish to maintain a healthy and active lifestyle.

For more Therapeutic Recreation information, click here .
Therapeutic Pools
The City owns and operates five therapeutic warm water pools:
Clarkson
2475 Truscott Dr., Mississauga, L5J 2B3
Phone: 905-615-4840, ext. 2121

Huron Park
830 Paisley Blvd. West., Mississauga, L5C 3P5
Phone: 905-615-4820, ext. 2450

Malton
3540 Morning Star Dr., Mississauga, L4T 1Y2
Phone: 905-615-4640, ext. 2527

Meadowvale
6655 Glen Erin Dr., Mississauga, L5N 3L4
Phone: 905 615-4710 ext. 2555

Terry Fox Therapeutic Pool
(in the Mississauga Valley Community Centre)
1275 Mississauga Valley Blvd.,L5A 3R8
Phone: 905 615-4670 ext. 2471
Citi*Swim




| | |
| --- | --- |
| | Welcome to the 2019 season. Check out this year's meet schedule. |

Citi*Swim is a team oriented introduction to competitive swimming. It offers the opportunity to learn skills and improve fitness for youth. By belonging to a team, each person enjoys learning to swim faster by challenging themselves to improve personal best times in swim meets. Citi*Swim is based upon the values of fair play and allows each swimmer an opportunity to contribute to his/her team. The program includes stroke and skill improvement and physical training. Participants should be able to efficiently swim one length of the pool. Practices will be held 2-3 times per week for a total of 3 practice hours a week (hours may be reduced due to holidays).

Full Summer, Weekly, or 2 week registrations available. For full schedules and to register visit activemississauga.ca .

Benefits Include:
Fitness


Swimming for one hour, three times each week, will go a long way toward helping your child achieve Canada's Physical Activity Guidelines

Teamwork


Team-building activities are included in every practice and swim meet, so every team member feels welcome and included.

Personal Goals


Points are awarded for personal best times, teaching each child to value their individual achievements.

Parent Resources

Tips for a Successful Swim Meet! Download
Advance Your Skills
Working in Aquatics

Fall Part-time Hiring Presentation
Saturday, May 25, 2019
Noel Ryan Auditorium, Central Library
10:30 a.m. - 12 Noon

Information about:

Qualifications
Volunteering
The application/hiring proces

Available positions
Basics on what to expect when hired
....and more!
Aquatic Leadership and First Aid

Did you know that qualified aquatic staff especially lifeguards and swimming instructors are frequently in high demand? Open the doors to learning opportunities and rewarding jobs in Aquatics by developing your skills in lifesaving techniques, teamwork and leadership.

Quick overview of what's on the Leadership report card and see what you will learn. On the right is the updated progression chart for courses and prerequisites you will need to advance your skills (click to enlarge).

PROGRESSION CHART




Working as a lifeguard is more than simply a job. Read about a staff member's positive experience in our aquatic leadership programs and working as a lifeguard. ( PDF )
The City of Mississauga is committed to improving the quality of our children's programs by training our staff in the standards of HIGH FIVE® Principles of Healthy Child Development ( PHCD ). Learn more here .
Volunteers
Volunteers are always welcome at our pools to assist qualified instructors in teaching swimming lessons. Volunteers must be:
14 years of age
Hold a minimum Bronze Medallion certification
Click here
view current opportunities and apply online.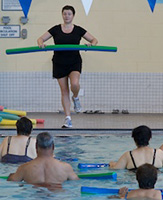 Aquatic Fitness Leadership
To be an Aquafitness Instructor, you will need:
Aquafitness Instructor Certification
Emergency First Aid with CPR B
To be an Aquatic Therapeutic Instructor, you will need:
Aquatic Post Rehabilitation Certification
Emergency First Aid with CPR B
For details on becoming a certified Aquafitness or Aquatic Therapeutic Instructor, call your local therapeutic pool and speak with the pool supervisor.
Indoor warm water Therapeutic pools are located at Clarkson CC, Huron Park RC, Malton, Meadowvale CC and Mississauga Valley CC.
Click Here to Download the Current Pool Maintenance Schedule
pcomapp02:8854