Sauga at Play
Sauga At Play offers a no cost drop in after school program during the school year for 10-18 year olds at community centres and various locations throughout the City through our Mobile at Play initiative.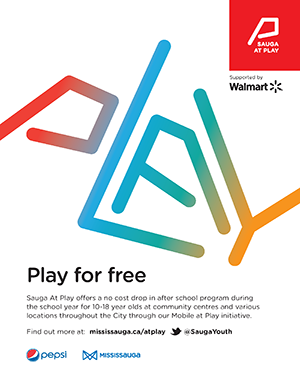 Click here for more information.
Library programming
Mississauga's Library System has plenty of exciting tools and programs to offer. Whether it's borrowing books, CD's, DVD's or even video games, accessing the Internet, or finding volunteer opportunities, our libraries have it all. The library also offers book clubs, reading buddy programs, writing contests, Teen Advisory Groups and more!
Click here to browse our library catalogue and more.
Freedom Pass
Ride for Free with a Freedom Pass!
Youth ages 12 - 14 can get unlimited free rides within Mississauga on MiWay and unlimited free public swimming at City of Mississauga heated indoor and outdoor pools. Mississauga.ca/freedompass
Drop In
Looking to get active or find something to do afterschool? Our drop in page lets you find exactly what you're looking for quickly and easily. You'll be able to find sports programs, fitness centres, museum tours and more with the click of a button, customizing what you want to do, when you want to do it.
Click here for drop in schedules.
Arts & Culture
Mississauga is a place that promotes the talents of its artists and recognizes and shares its history. With art galleries and theatres, you'll be amazed at Mississauga's eye for the arts. Go to source for all kinds of information on art organizations, cultural industries, festivals, events and more!
Click here for more information.
Mississauga Youth Action Committee (MYAC)
Get involved, MYAC holds a connect second wednesday of each month at Civic Centre. Various topics, activities, food and volunteer oppourtunities provided. For more information follow @MYACMISSISSAUGA on Twitter.
Limelight Association of
Young Artists
Limelight Association of Young Artists' mission is to connect aspiring young artists and provide them with the support, recognition and opportunities required for them to thrive. Click here for more information.
Active Mississauga
See what the City of Mississauga has to offer with activemississauga.ca , the easiest way to register for City of Mississauga recreation programs. Register for fitness classes, first aid courses, leadership programs, dance classes and more with activemississauga.ca
Upcoming Events:
Rebel 17
Date: May 1 - 7, 2017
Details: A week-long youth-led celebration
Website: http://www.mississauga.ca/portal/discover/rebel
Register your youth-led celebration today on our website! #Rebel17
Want to get involved? Email youth.plan@mississauga.ca
Celebration Square
Celebration Square is a state-of-the-art event destination. With tons of things to do year round ranging from free concerts, outdoor movie nights, fitness and yoga classes, skating, open mic nights, you won't ever get bored. If you're looking for some down time, kick back with your laptop with free Wi-Fi throughout the square, and heated patio at the C-Cafe.
Click here free event listings and more.
http://www.mississauga.ca/portal/celebrationsquare
We are now on Instagram, follow us here! @saugayouth