The Hurontario Light Rail Transit Project is a provincially-planned light rail system, developed by the cities of Mississauga and Brampton with Metrolinx. The project is funded through a $1.4 billion commitment from the Province of Ontario.

Infrastructure Ontario:
Request for Proposals Issued for Hurontario LRT
Teams Shortlisted for Hurontario LRT
Request for Qualifications Issued for Hurontario LRT

Ministry of Transportation
More Transit Coming to Mississauga and Brampton Families
Property Acquisition Has Started:
Metrolinx has initiated the property acquisition process to buy land needed to build the Hurontario LRT. The majority of property pieces required for the Hurontario LRT consist of slivers of a land along the Hurontario corridor. Metrolinx, with the assistance of the City of Mississauga and City of Brampton LRT property teams, is reaching out to the affected property owners with a view of achieving amicable agreements for land over the next several months. Metrolinx is committed to ensuring that property owners understand the process and their rights.
Expropriation proceedings has not commenced for the Hurontario LRT. To achieve critical project timelines, it may be necessary in some instances to initiate expropriations proceeding in ensure possession of required property.
The Expropriations Act is legislation which allows an authority to obtain possession of land in absence of an agreement with property owners however provides a mechanism for owners to be fairly compensated and allows for negotiations between the owner and Metrolinx to continue during the process.
Contact:
Ron Sanderson
ron.sanderson@mississauga.ca
Manager, Real Estate
City of Mississauga
Hurontario LRT Project
905.615.3200 Ext 4773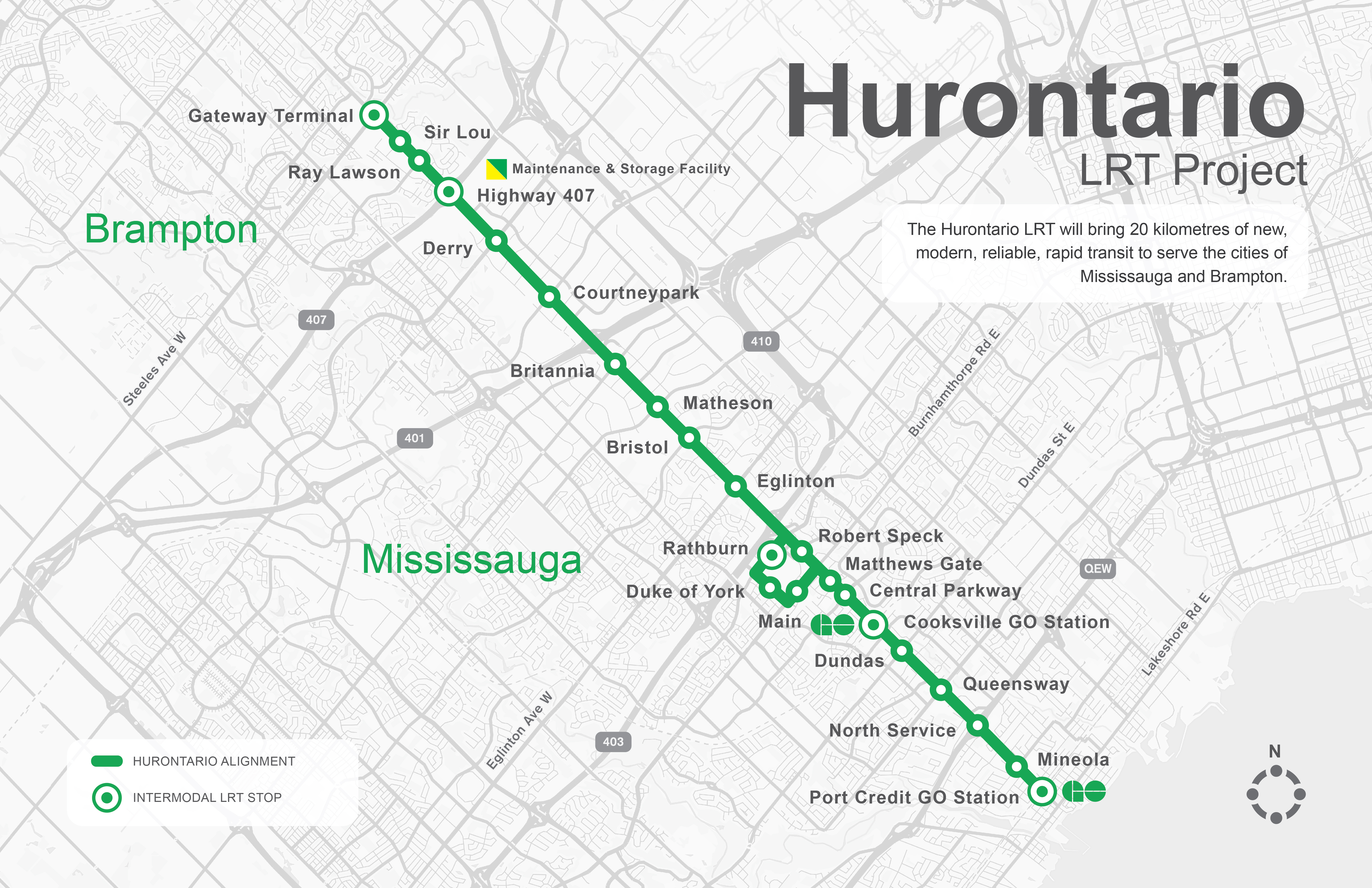 Click on map for a larger version.

Hurontario LRT Fall 2016 Video
Hurontario Light Rail Transit Video: What, When & Why
About the Project
The project will bring 20 kilometres of fast, reliable, rapid transit to the cities of Mississauga and Brampton along the Hurontario corridor. The LRT line will have 22 stops with connections to the Milton and Lakeshore West GO Transit lines, Mississauga MiWay, Brampton Züm, and the Mississauga Transitway along Highway 403.
The City of Mississauga Hurontario Light Rail Transit Project Office is working closely with Metrolinx, the provincial government agency responsible for leading the Hurontario Light Rail Transit Project. In the coming months, Metrolinx and City of Mississauga staff will further refine guidelines and requirements for various project features, including the design of the LRT line stops, streetscape and urban realm, and connections to other transit services.
Moving forward with this project represents a major step towards transformational transit improvements in Mississauga and Brampton—part of Metrolinx's long-term vision for an integrated, sustainable transit network connecting the Greater Toronto and Hamilton Area.
Questions about the project? Contact the City of Mississauga Hurontario LRT Project Office at 905-615-3200 ext. 4816 or tim.lai@mississauga.ca