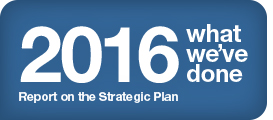 Welcome to the City's Strategic Plan website, where we are documenting the Plan's progress for 2016. Our Future Mississauga is a place where opportunities are boundless. We are well on our way to making Mississauga the "place where people choose to be."
This progress report indicates what we've achieved in carrying out the Strategic Plan that was developed through an extensive public engagement process. We are delighted with the progress we've made in 2016 and are excited by the possibilities, challenges and opportunities for the future. We hope you share in our excitement!
Explore your city and be a part of city life. Stay informed by checking the City website regularly to see what's happening. Discover Mississauga's historic villages and neighbourhoods by foot or bike. See how the Strategic Plan is coming alive in our revitalized downtown and other communities.
Have you experienced the Strategic Plan's progress in your own neighbourhood? The community is a huge component in driving the Plan forward. How have you and your community advanced Mississauga's Strategic Plan? We challenge you to contribute your ideas and report on your successes. Please send us your comments and tell us your own success stories: public.info@mississauga.ca. In the next Progress Report, we'd like to include examples of community initiatives, not just City initiatives. You are part of the change!