Back to Top
News & Events
Mississauga Celebrates Seniors' Month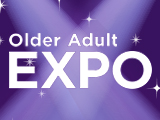 June is Seniors' Month in Mississauga and community centres and libraries across the city will be celebrating their older adults through a wide variety of events and activities. In addition, an Older Adult Appreciation Week will be held from June 12 to June 18. During this week, the city's older adults will be enjoying special offers, such as discounts at City-run golf courses and refreshments at community centres.
Active+ Summer 2016 Edition Now Online!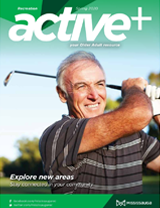 Swing into summer! Read all about celebrating seniors in the City, discovering parks & trails, recipes, events and more.
MiWay $1 Senior's Fare Pilot Extended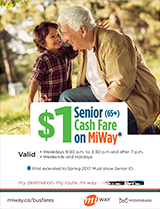 The $1 MiWay fare for senior's pilot program that began in June 2015 will be extended until the results of the Affordable Transportation Pilot Program are available in 2017.
The one dollar cash fare for seniors is available during off-peak hours:
Weekdays from 9:30 a.m. - 3:30 p.m.
Weekdays after 7 p.m.
Anytime on weekends or holidays
On request, senior riders (age 65+) must present a piece of valid photo identification or a MiWay issued senior identification card to the bus driver to receive the one dollar fare.
MiWay Affordable Transit Pilot Program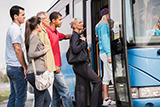 The MiWay Affordable Transit Pilot Program provides low-income residents living in Mississauga with access to affordable public transit.
OAAP Nominee is awarded the "Lifetime Volunteer Achievement Award"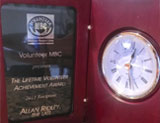 The late Allan "Al" Ridley, an inaugural Older Adult Advisory Panel (OAAP) member and long-time leader of many older adult groups and clubs in Mississauga, was awarded the Volunteer MBC "Lifetime Volunteer Achievement Award" on April 12, 2016.
Ontario Senior Achievement Award Recipient!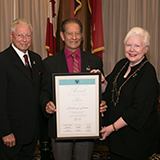 Older Adult Advisory Panel member, Bernard Jordaan, is one of the recipients of Ontario Senior Achievement Award 2015.