Back to Top
News & Events
Older Adult Expo 2017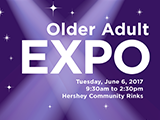 The City of Mississauga will be hosting the second annual Older Adult Expo presented by Chartwell Retirement Residence on Tuesday, June 6, 2017 at the Hershey Community Rinks from 9:30am to 2:30pm.
Join us for the Seniors' Got Talent Show, attend an informative technology session and receive free Device Advice. You can also participate in a fitness demonstration or take a ride and learn more about MiWay. There will be many vendors on hand with new and exciting information, products, services and programs for older adults.
For more information, please contact older.adults@mississauga.ca.
| | |
| --- | --- |
| Presented by | Talent Show Sponsored by |
| | |
Active+ Spring 2017 Edition Now Online!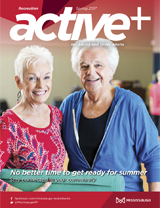 Get into spring! Read all about how to stay active during the season, programs, recipes, events, and more Read It Here
Winter Health Risks for Older Adults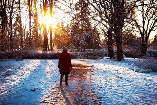 During the winter months, snow, ice and cold weather can make life challenging for everyone, but there are some health-related considerations to keep in mind, especially for older adults. Please click here to read the article published by McMaster Optimal Ageing Portal.
Credit Programs Available to Older Adults in the City of Mississauga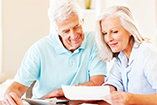 Click here
to read about all of the credit programs the City offers to older adults in Mississauga.
MiWay $1 Senior's Fare Pilot Extended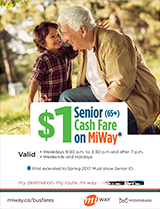 The $1 MiWay fare for senior's pilot program that began in June 2015 will be extended until the results of the Affordable Transportation Pilot Program are available in 2017.
The one dollar cash fare for seniors is available during off-peak hours:
Weekdays from 9:30 a.m. - 3:30 p.m.
Weekdays after 7 p.m.
Anytime on weekends or holidays
On request, senior riders (age 65+) must present a piece of valid photo identification or a MiWay issued senior identification card to the bus driver to receive the one dollar fare.